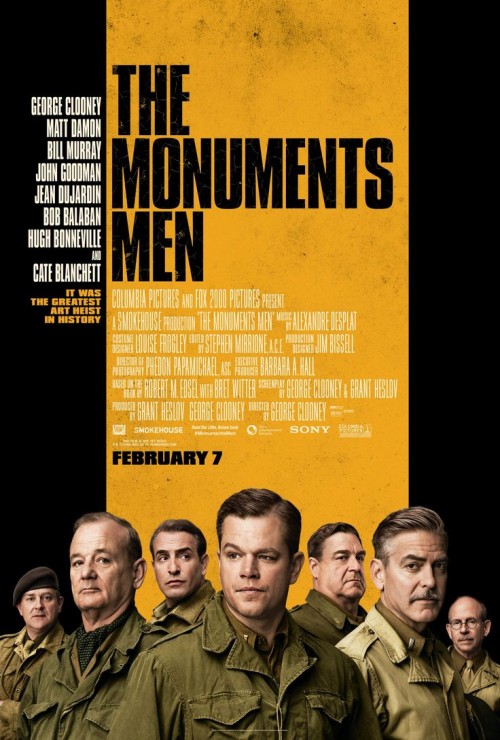 The Monuments Men hits movie theaters today, and I had the chance to attend a prescreening of this World War II story earlier this week. I am not usually a fan of war movies, but The Nerd loves them, so I took him with me to get his thoughts as well.
The story takes place during World War II and centers around a group of seven men who were recruited to venture into Europe with the mission of finding and protecting stolen art during combat. Hitler and the Nazis were hoarding the art in hopes of creating a Führer Museum in his home town. This was so interesting to me, as I was unfamiliar with this part of World War II.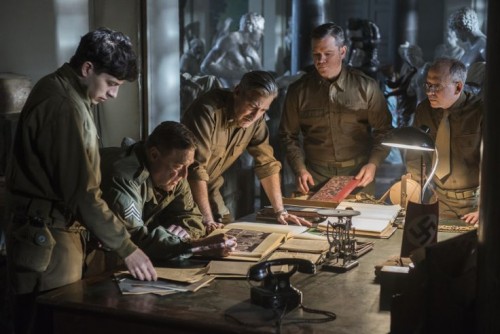 The Monuments Men — as they dubbed themselves — split up in hopes of tracking down where the Nazis are hiding the art. They split into four groups, and the story kind of jumps around between them. It's fast-pasted, and there's a lot of information crammed in there, so it was kind of easy to get lost. However, I actually really enjoyed this method of story-telling (it reminded me a lot of how Downton Abbey is filmed). It felt like this movie didn't really drag at all. I never really found myself wondering how much was left.
There were some great emotional moments in the film that captured the talent of these actors. It really did seem to be more about their characters than their actions, which was refreshing. I found myself laughing at some points and saddened by others, which is what you expect from a good film.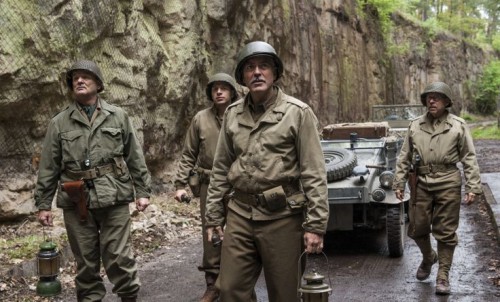 Unlike other war movies, you don't see a whole lot of battle, which was fine by me. I was more interested in the historical aspects of the film anyway.
I really liked that this movie showed a different side of the war. And while the movie as a whole was not necessarily about the atrocities that occurred during this time, you never really forgot what was happening around the characters on the screen. There's a particularly poignant scene that I remember striking me (and those around me in the theater, judging my the murmurs I heard). It's a small moment that doesn't knock you over the head with the truth of what went on, but rather nudges you and reminds you of it.
I think that's really the beauty of this film. It takes a subject like World War II and gives you a small glimpse a part of the war that is easily overlooked. At one point, the President Roosevelt asks Frank Stokes if the art that they saved was worth the price they paid.
It's an honest question — are a few paintings really worth the potential lives lost?
I guess you'll just have to watch the film to find out.
Are you planning to see The Monuments Men? 
Disclaimer: I was provided with passes to an advanced screening of this film. Photos are courtesy of Grace Hill Media. All opinions are my own.
br>