On our recent trip to Canada, Andrew decided it was time to get in his two bottom teeth.
Yes, you read that right. My son grew TWO teeth while we were in a foreign country.
Since then, he has decided that his new favorite way to play is EATING Mommy's legs. I like to call him my Little Monster.
I'm linking up this post with Growing Up Geeky and Chaos & Love for Toddle Along Tuesday!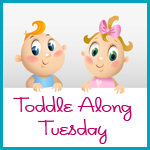 Click over to see what unconventional toys other babies are playing with.
Thanks for looking!
br>