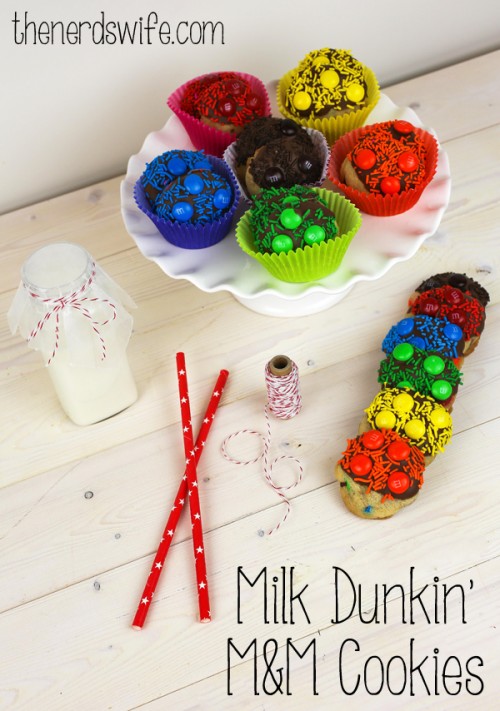 Y'all know that I'm a huge fan of Christmas cookies. But sometimes, don't you just want a plain ol' cookie during the holidays? Something without red and green sprinkles? I've always loved M&M cookies, so today I wanted to share my favorite recipe for them with you. These Milk Dunkin' M&M Cookies are the perfect treat to leave out with a glass of milk for Santa, or to enjoy on a hot summer day with a cold glass of milk.
What makes these so perfect for dipping? Well, they are just the right amount of crispy — everyone knows a crispy cookie washes down better with some ice cold milk. Plus, you dip them in melted chocolate and top with some extra M&Ms and colored sprinkles and you've got a decadent, rich cookie. You'll be thanking me later, I promise.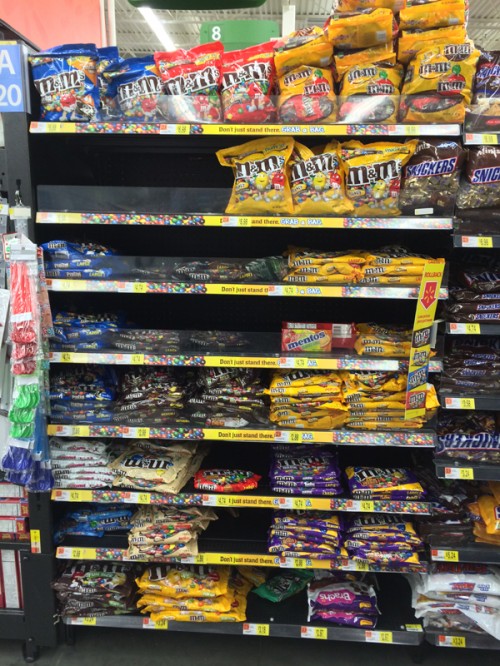 To make these cookies, I stocked up on M&Ms on the candy aisle at Walmart. I like to separate the M&M candies out by color so that I can color coordinate the cookie decorations — I think this makes the cookies look extra fun and special, don't you?
Milk Dunkin' M&M Cookies
Yield: About 4 dozen cookies
Ingredients:
1 stick unsalted butter, cool
1/2 c shortening
3/4 c granulated sugar
1/2 c packed light brown sugar
1 1/2 tsp vanilla extract
1 large egg
1 3/4 c all-purpose flour
3/4 tsp salt
1 tsp baking soda
12 oz bag of plain M&Ms, divided
Milk chocolate candy melts
Colored sprinkles
Directions:
In the bowl of a stand mixer, cream the butter and shortening together until very creamy. Add in the sugars and mix well for about two minutes, scraping the bowl as needed. Add in the vanilla and egg and mix well.
In a separate bowl, whisk together the flour, salt and baking soda. Add this to the wet mixture and incorporate to make the dough.
Stir in 1 cup of the M&Ms and chill the dough for at least 30 minutes. I chilled mine overnight.
Once the dough is ready, preheat the oven to 350 degrees F.
Roll the dough into 1-inch balls and place at least 3 inches apart on a prepared baking sheet. Bake for 10-12 minutes, until the bottoms have just turned golden brown. Remove from oven and allow to sit for two minutes before transferring to a wire rack to cool completely.

Now, it's time to decorate! Melt the chocolate according to package directions.

Dip the cookies into the melted chocolate and top with M&Ms and sprinkles. Allow to harden completely on wax paper.
Enjoy with a cold glass of milk!

I made a batch of these to share in a Christmas Cookie Exchange with my sister, so I made a fun little printable tag to add some holiday cheer to the package!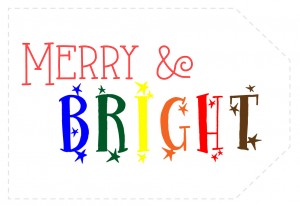 Click here to download a copy of the tag for yourself!
I also used color-coordinated cupcake liners to separate the cookies in the baking box, so they will be a fun and festive holiday package for her family!
Looking for more inspiration? Click here for more fun ways to use M&Ms in your baking! You can also check out the Mars website for even more inspiration! And once you've got your creative juices flowing, check out this awesome contest from M&Ms: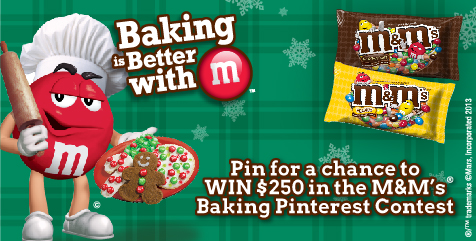 Right now, there is an awesome Baking is Better with M Pinterest Sweepstakes going on for M&M's.
Pin for a chance to win one of three $250 Walmart gift cards! It's as easy as submitting your email and pinning an image.  Simply complete the following steps:
1. Enter your email in the form below and click "Enter"
2. Pin the contest image to any of your own Pinterest boards
3. Visit the Baking with M Pinterest board and Re-Pin your favorites to enter: http://www.pinterest.com/cbsocially/baking-with-mms/
Three (3) Winners will be selected at random – One (1) entry per person.
Contest runs 12/06/13 – 12/31/13