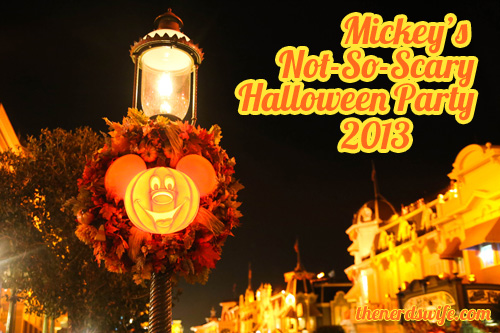 Last week, we got the chance to visit Disney World in Orlando for a few days with some of my family. Imagine taking on Disney World with seven children under the age of 5, and you have a taste of just how chaotic our week was. I'm still recovering from all the fun that we had, but I wanted to share one of my favorite parts of the trip with you — Mickey's Not-So-Scary Halloween Party.
When I found out that we'd be visiting Disney World during Halloween week, I knew that we couldn't miss Mickey's Not-So-Scary Halloween Party. We all decided to dress up as families, and I think we had some really fun costumes!
We had visits from Peter Pan, Wendy, Jake, Izzy and Cubby; Woody, Jessie and Buzz Lightyear; the Queen of Hearts and the Mad Hatter; and the Incredibles.
Then, the trick-or-treating began! We decided to skip the first parade to take advantage of shorter lines for trick-or-treating and rides. It definitely worked!
We made sure to watch the fireworks show and second parade, though.
The parade was over right about 11 pm, and Andrew was fast asleep. So we headed back to our resort, along with most of the park. The rest of our family stayed until midnight, though, and were able to ride many of the most popular rides with no lines. If you attend, I definitely recommend staying until midnight.
Have you ever been to Disney World?
br>