Fall is one of my favorite seasons. I love putting out all our decorations and making special meals. It's such a fun time of year!
I recently went to Christmas in Cowtown and there was a booth selling these super-cute Christmas, Halloween and Thanksgiving wreaths. I saw them and thought, I could make that! And so, I did!
Here's what you'll need to make this wreath:
1 Roll of Poly Deco Mesh – 10 yards long and 21 inches wide
Fabric Ribbon
Embellishments – like leaves, pumpkins, feathers, etc.
Get your materials together. You'll start on the inside ring of the wreath frame. Gather the end of the Poly Deco Mesh together and twist it into one of the fasteners on the frame.
Create a loop with the Poly Deco Mesh and secure it into the next fastener on the frame. Continue around the inside of the frame, securing loops along the way, and then move to the outer edge. Continue until finished and cut the end of the Poly Deco Mesh.
Repeat the steps above, this time using the ribbon to loop around the frame.
Here's what it will look like when finished.
Add embellishments to the wreath, securing with the fasteners on the frame.
Position the mesh loops and ribbons so that they're to your liking and you're done!
I think it adds a fun, festive touch to our front porch, don't you?
Looking for yummy fall recipes? Look no further!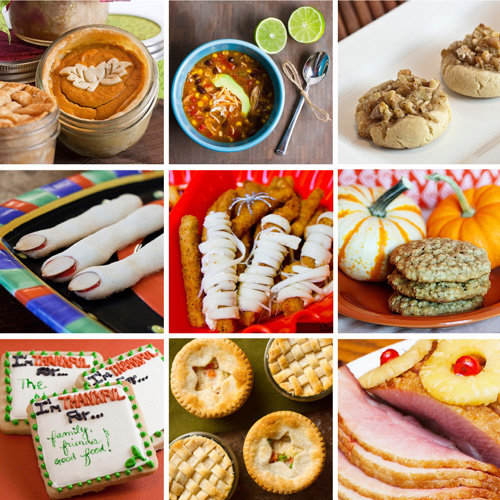 br>