A few weeks ago, I was teaching at a workshop as part of my day job, when we ran into a snag. When we got to the workshop location, we discovered that the Internet wasn't working.
When you're planning to demo online software, Internet is kind of essential.
Luckily, I had the Samsung Galaxy S III from Verizon Wireless to save the day! I set up a mobile hotspot and gave the info to workshop participants.
We even ran the demo computer from the hotspot. At one point, eight devices were connected!
I was SHOCKED at how well the Verizon Wireless 4G LTE network performed under such strenuous conditions. There was no lag, and everyone was able to keep up with the class.
I seriously don't know what I would have done without it!
Has your cell phone ever saved the day?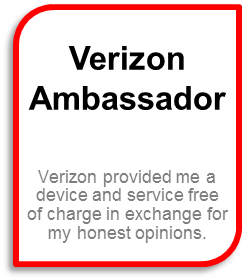 **Disclaimer** I am a Verizon Wireless Ambassador. I received a wireless device and phone/data plan free of charge to use for review and evaluation of Verizon Wireless products and services. As part of the program, I was asked to share my opinions with others, however, my opinions are my own. Please contact vzw@comblu.com with any questions about the Verizon Wireless Ambassadors' Program.
br>