Disclaimer: Compensation was provided by Houlihan's via MomTrends.  The opinions expressed herein are those of the author and are not indicative of the opinions of Houlihan's or MomTrends. 
With my recent weight loss journey, I've really started focusing on making better choices at mealtime. And that can be especially difficult when dining out. Andrew went to visit my mom this week, so The Nerd and I went out to dinner for a much-needed date night. We decided to try out the all-new Lighter Fare Menu at Houlihan's.
The menu features items that are less than 590 calories and are prepared with fresh and nutritious ingredients. They don't skimp on flavor, either. I had a hard time choosing between the delicious-sounding entrees, and even gave in and got dessert.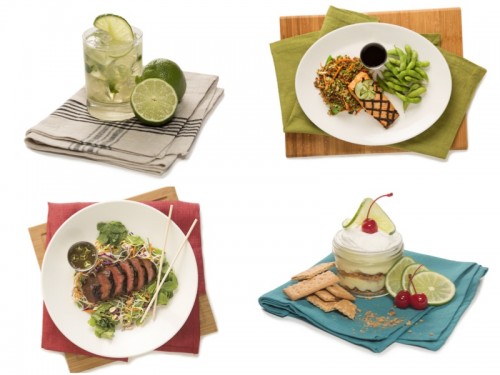 Don't they look tasty?

I ordered the Lemon and Herb Grilled Chicken, which is 550 calories. It was paired with a yummy medley of white beans, artichokes, tomatoes and fresh herbs. The chicken was juicy and delicious, and I totally forgot that I was enjoying a "lighter fare."

For dessert, The Nerd and I shared (and by shared, I mean that I ate most of it) the Chocolate Mousse. At only 410 calories, this dessert was divine. I *loved* the rich, chocolate mousse, and the fresh raspberries added a yummy layer to it. I'm still thinking about this dessert today.
These menu option are only available for a limited time, so make sure to head to your local Houlihan's and share your thoughts with Houlihan's on Twitter using #SoEatingThis.
To get you started, I'm giving away a $50 gift card for you to enjoy dinner for two at Houlihan's!
What would you want to try on the new menu?
br>