Ever since I saw these cookies on Bake at 350, I have been *dying* to try them. I thought I'd add some holiday colors to the icing to give the cookies a festive look. These would be perfect for a holiday party or cookie exchange.
Now, these cookies don't taste *exactly* like Oreos. In fact, the cookie tastes a lot like a brownie, but the icing is pretty darn close.
Homemade Oreos
Source: Bake at 350 for cookies
Martha Stewart Holiday Cookies magazine for icing recipe
Ingredients:
For Cookies
(Makes about 3 dozen small cookies)
2 1/2 c all-purpose flour
1/2 c dutch-process cocoa
1/2 tsp coarse salt
1 c unsalted butter
1 c sugar
1 egg
1 tsp vanilla
For Icing
(I doubled this recipe to be sure I had enough for all the cookies I made)
4 Tbsp unsalted butter, softened
1 1/2 c confectioners' sugar
1/4 c granulated sugar
2 tsp vanilla extract
Gel Food Coloring
Directions:
Preheat oven to 350 degrees F. Whisk together flour, cocoa and salt. Set aside.
Cream butter and sugar with a stand mixer fitted with the paddle attachment. Add the egg and vanilla and mix well. Gradually add the flour mixture until a dough is formed.
Roll out the dough on a clean surface sprinkled with flour and cocoa. Cut out circles and gently press a small star-shaped cookie cutter into each cookie, but don't go all the way through. Place the cookies on a parchment-lined cookie sheet and put in freezer for about 5 minutes so the cookies will hold their shape.
Bake for 8 minutes and then cool completely. While cookies are cooling, prepare the icing.
Beat the butter with an stand mixer on medium-high speed until pale and creamy.Gradually add confectioners' sugar and then granulated sugar, mixing to combine. Mix in vanilla and tint with food coloring as desired.
When the cookies are cool, spread the icing on the bottom of one cookie and top with another, like the beloved store-brand treat.
Happy Holidays!
Don't miss these yummy holiday cookie recipes!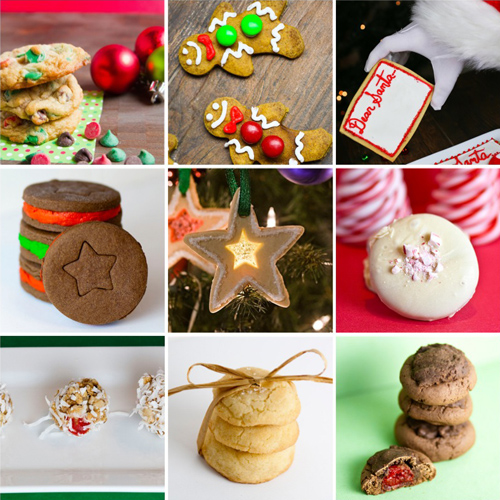 br>