Disclosure: I am a member of the Netflix Stream Team, and was provided with a year of service and an Apple TV. Each month, I'll be participating in challenges. All opinions are my own.
With Science Fairs starting around the nation for our children, Netflix encouraged us to jumpstart our kids' imaginations this month and teach them about science. My husband is a scientist, and my children are boys, so I knew that this would be something that they would love.
I love that Netflix has a variety of science-themed shows to choose from. We decided to watch Jimmy Neutron Boy Genius. After the first three minutes, Benson said, "This is going to be awesome!"
It was.
They were totally captivated and their imaginations were ignited. Immediately after the movie, they went outside and played rocket ship with the swings.
I wanted to take the lesson even further, though, with a fun science experiment that we could do at home. When I came across this recipe for homemade bath fizzies, I knew that they would love them. They are so easy to make and the *perfect* "experiment" for a young scientist.
 Homemade Bath Fizzies
Source: Arm and Hammer
Supplies:
2 tsp unsweetened lemon drink mix
1 tsp flour
4 tsp baking soda
3-6 drops food coloring
4 tsp baby oil
Directions:
Mix together the drink mix, flour, and baking soda in a small bowl. In a separate bowl, stir together the baby oil and food coloring. Slowly add the baby oil mixture to the dry mixture, stirring to mix well.
Form the mixture into 1-inch balls. It will make about three bath fizzies.
Set on wax paper and allow to dry for 24-48 hours.
Pour a bath, and prepare for lots of fun!
Ready to learn about science with your kids?
Check out these great titles on Netflix!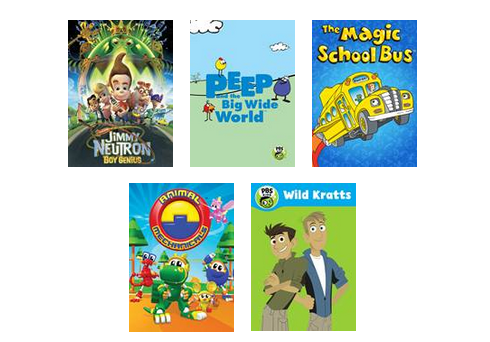 1. Jimmy Neutron Boy Genius
2. Peep and the Big Wide World
3. Magic School Bus: All Dried Up
4. Animal Mechanicals
5. Wild Kratts
I hope that you can find something that inspires your children's imaginations and sparks learning in your home!
br>