We recently took a trip to Canada to visit The Nerd's family there. I have lots more posts and photos to share of our time there, but before I do, I wanted to share a few tips I picked up while traveling with a baby.
For weeks before the trip, I was very anxious about Andrew's first airplane flight. I spent hours looking for tips and tricks, essentials for packing, best ways to get through security — basically, anything I could think of to make the trip easier.
Surprisingly, though, most of the things that got us through the flight we're things I could have planned for — but they turned out to be exactly what I needed.
1. An abundance of relatives — We flew with The Nerd's parents and sister and I was so glad that we did. Not only did we have extra help to haul all of the baby gear (two carry-on bags, a stroller and a car seat… not to mention the suitcase full of baby items we checked) but they were great to help "pass the baby" when he got a little fussy. A new face can work wonders when the baby gets bored!
2. Helpful neighbors — On our flight to Vancouver, we sat in front of a sweet old woman who made it her mission to make Andrew laugh during the flight. He had a lot of fun and I think she did, too.
3. A window seat — We were lucky and Andrew slept for most of the flight there and back. However, on both flights, he decided to wake up shortly before we landed. As you know, take-off and landing tend to be the most tricky parts of flying with a baby as the air pressure changes can cause discomfort as the baby's ears pop. Luckily, we had a window seat and Andrew was mesmerized watching the clouds and then the lights of the city below as we landed.
4. Something to entertain Mom — In all my preparation, I totally forgot to account for any down time for myself. So, while Andrew slept soundly on the flight, I was dreadfully bored. Don't forget to take care of yourself!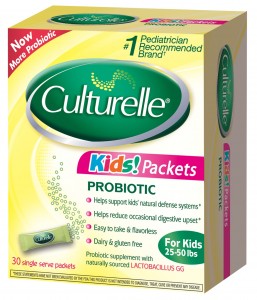 5. Something to take care of unexpected surprises — Remember how I said that Andrew woke up right before we landed? Well, cabin air pressure changes don't only affect the ears. There can be other, um, stinkier surprises that await you.
Children's Probiotic, like Culturelle Kids!, provides a solution for digestive discomfort and poor health. I've given Andrew probiotic before, but the nice thing about Culturelle Kids! is the convenient packets it comes it. They're small enough to store easily in your carry-on luggage. Just pour the packets into a sippy cup or bottle and you're good to go. Easy peasy.
Culturelle Kids! helps support digestive health. Did you know that 70% of your immune system is in your digestive tract? So, maintaining a healthy and balanced digestive system plays a vital role in strengthening your child's overall health and well being.
Have you ever flown with a baby? What are your best tips?
Disclaimer: This post was sponsored by Culturelle Kids! I was provided with samples to use and review. All opinions are my own. 
br>