Today, I have a lot to be thankful for. I have a wonderful husband, who doesn't mind when I tell the world about his stinky feet. I have a beautiful niece, who will someday grow up to be a cheerleader. I have a super-cute nephew, who really, really, really loves chocolate cake. I have an amazing family, who acquiesces to be the guinea pigs when I decide to try out new recipes.
This past year has been absolutely wonderful, and I can't say enough how blessed I am.
As I was planning our Thanksgiving menu, I wanted to find a way to incorporate the "reason for the season" into the meal. I'm not much on open declarations of emotion, so I wanted a way that we could each do on our own and share with others if we chose. These Thankful Cookies from I Am Baker were exactly what I was looking for.
Each cookie is decorated with Royal Icing with space to write what you are thankful for.
I also wanted to mix things up a bit with my sugar cookie recipe. This version from Bake at 350 is the perfect combination of sugar cookie and fall spices!
Fall Spice Sugar Cookies
Source: Adapted from Bake at 350
Ingredients:
>3 c unbleached, all-purpose flour
2 tsp baking powder
1/2 tsp cinnamon
1/4 tsp ginger
1/8 tsp nutmeg
1/8 tsp All-spice
1 c granulated sugar
2 sticks butter
1 egg
1 tsp pure vanilla extract
Directions:
Preheat oven to 350 degrees. Mix together butter and sugar until light and fluffy. Add the egg and vanilla and mix well.
Whisk together the flour, baking powder and spices. Beat the the dry ingredients into the wet mixture gradually, scraping down the sides of the bowl.
Roll the dough out into two disks and chill for about an hour before cutting out shapes.
When ready, bake at 350 degrees for 8-10 minutes, until edges of the cookies are golden brown.
Looking for more fall recipes? Look no further!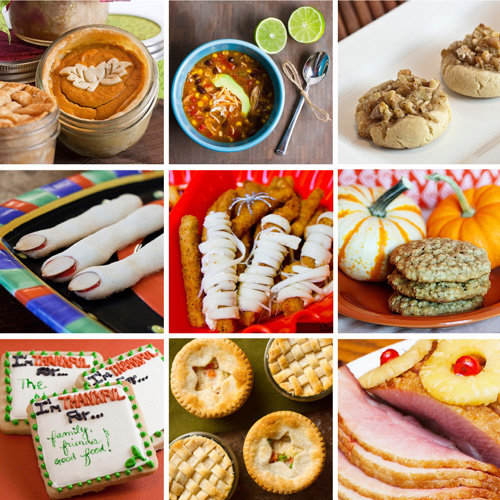 br>