As a new mommy, one of the hardest things for me is keeping organized.
There are so many things to keep up with: doctor's appointments, our sitter's schedule, my work appointments, blog events, The Nerd's schedule… it's just SO MUCH!
So when PlumLife contacted me and asked me to review their product, I had to give it a try. And I'm so glad I did!
PlumLife is an online calendar/event scheduler for busy parents, or really, just busy people! I've always used iCal on my computer/phone/iPad to keep up with work appointments and other scheduling events, but it was just MY stuff.
With PlumLife, you can add calendars for different people (or even different THINGS) and SHARE those calendars with others!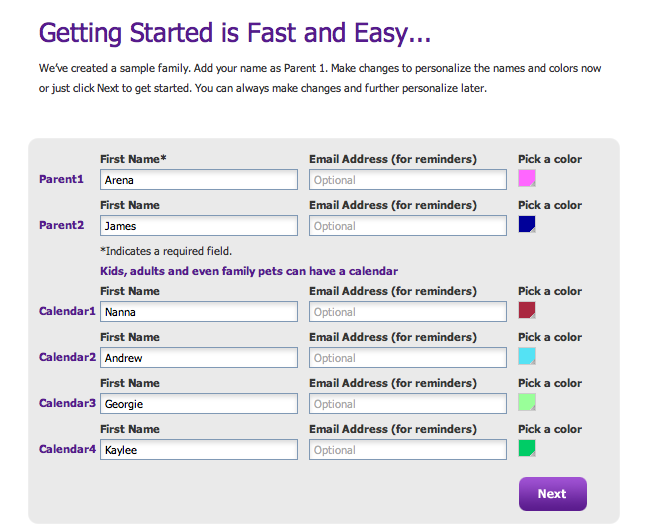 Just enter their first name, then add their email address for reminders, pick a color and you're all set! You'll see above that I set up a calendar for myself, The Nerd, our sitter, Andrew and the Minions. How cool is that?
If you were doing home renovations, you could set up a "Home" calendar and add appointments with the contractor, builder schedules, etc to it. It's awesome!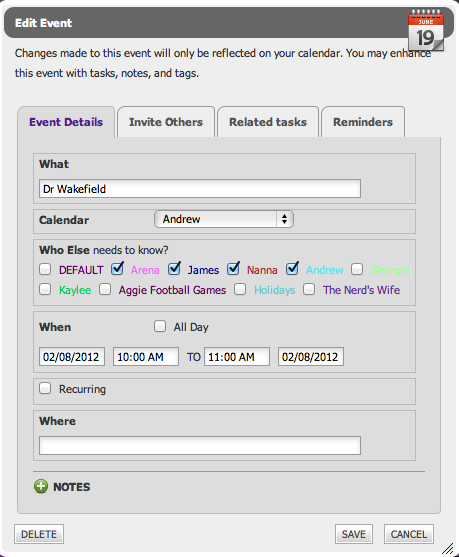 When you add an event, you can choose what Calendar it appears on. Then, you can select who else this event relates to. For example, on Andrew's doctor appointment, I added myself, The Nerd and our sitter.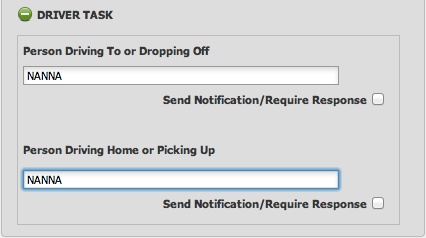 You can choose Related Tasks for an event and enter Driver Information or Sitter Information. Above, I've entered that our sitter will take Andrew to and from his appointment.

Then, you can choose whether to send Reminders about the event and when the reminder should be sent.
Here's a look at my calendar for February 2012: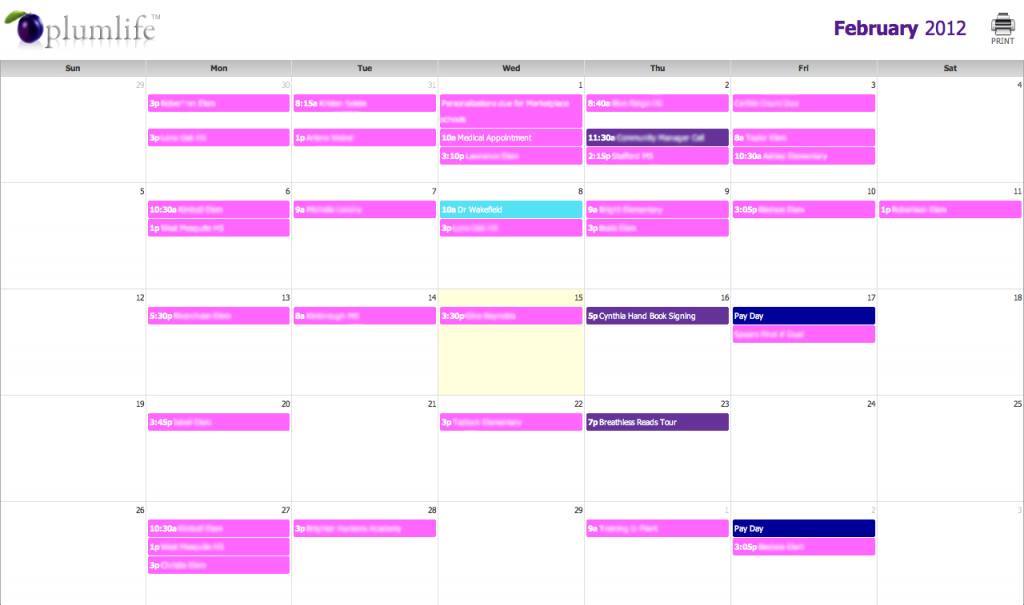 I've created a calendar for my work appointments, blog schedule, Andrew and The Nerd. And it's all accessible from one screen.
See how easy it is?
There are even instructions for adding your PlumLife calendar to your iPhone home screen so you can use it on the go.
The best part? It's FREE! If you decide to give it a try, be sure to enter my promo code when you sign up!
The Nerd's Wife Promo Code: PlumLife8
PlumLife is having a contest among DFW-area bloggers to see who can add the most subscribers. If The Nerd's Wife is among the top 20, one of my readers who signs up for PlumLife will win a $25 gift card to the Container Store! How awesome is that? Oh, and you don't HAVE to be in DFW to be eligible!
Here's what you have to do:
Good luck, and stay organized!
br>