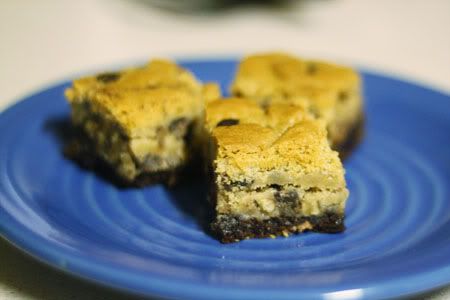 These "brookies" (a cookie and brownie combined) are *amazing*. Seriously. Eat these with a glass of milk. Or Dr Pepper. Or whatever. Just eat them. And don't share them. They're *that* good.
I took them to Austin last weekend (about 40 bite-sized pieces) and came home with none left. They were definitely a hit!
Chocolate Chip Praline Brookies
Ingredients:
1 box (19.5 oz) of fudge brownie mix
1/2 cup vegetable oil
1/4 cup water
2 eggs
1/4 cup butter
1/4 cup milk
1/2 cup granulated sugar
1/2 cup packed brown sugar
1/2 cup coarsely chopped pecans
1/2 teaspoon vanilla extract
1 roll of refrigerated chocolate chip cookie dough
Directions:
Heat oven to 350 degrees. Coat a 13×9 inch baking dish with Crisco oil and spray with non-stick cooking spray.
Prepare the brownie mix according to package directions, using oil, water and eggs.
Spread in the baking dish and bake for 25 minutes.
Meanwhile, combine butter, milk, granulated sugar, brown sugar, pecans and vanilla in a sauce pan and heat on medium until boiling.
When the brownie layer is finished, spread the pecan praline layer on top of it in the baking dish.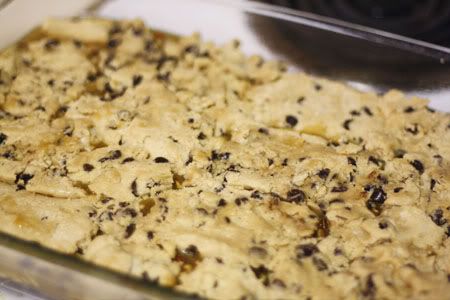 Press square sections of the chocolate chip cookie dough on top of the praline layer.
Bake for another 25 minutes until top is golden brown.
Cool completely and cut into bite-sized squares.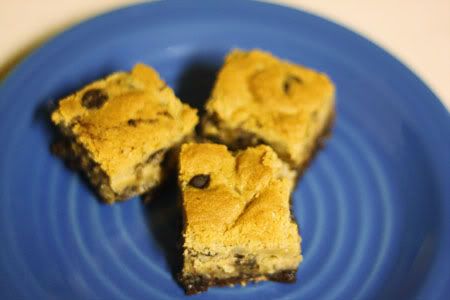 Enjoy!
br>