Happy Friday!
I am oh-so-happy to announce my giveaway for BlogFest 2010, which is taking place this weekend.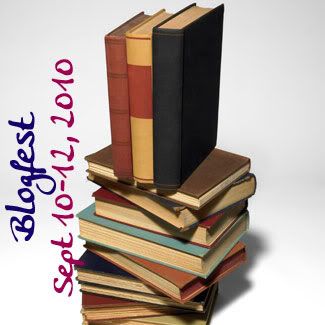 BlogFest is kind of a blog ring, where participating sites link to another site in the event. Each site is hosting a giveaway from 12:00 p.m. EST Friday, Sept. 10 through 12:00 p.m. EST Sunday, Sept. 12.
I'm really excited to take part in this event as first-time participant!
Be sure to read all the way down at the bottom of the post to find the next site in the circle you should visit!
Also, make sure you visit
A Journey of Books
to get the full details of BlogFest, find the tracking site to make sure you enter all the fabulous giveaways, and enter to win the BIG GIVEAWAY!!
It's been such an awesome few weeks with really great book releases.So, I thought I'd give you a chance to win some of these super-amazing titles!
Here's what's up for grabs:
Clockwork Angel by Cassandra Clare

Extraordinary by Nancy Werlin

Firelight by Sophie Jordan

Halo by Alexandra Adornetto

Losing Faith by Denise Jaden

Paranormalcy by Kiersten White

The Ivy by Lauren Kunze and Rina Onur

The DUFF by Kody Keplinger

The Replacement by Brenna Yovanoff
The Rules: Only one entry per person.
You *must* be a follower of my blog to enter. 
To follow my blog, just click the "Join This Site" button on the right sidebar and sign in with your Google or Open ID account.
Already a follower? Great! You'll get an extra entry for following my blog prior to this contest!
Once you're a follower, just answer the questions in the form below and hit Submit!
This giveaway is open internationally.There will be *three* winners.
Winner #1 will get a choice of *two* books from the list.
Winner #2 will get a choice of *one* book from the list.

If I reach 600 followers during the contest, I'll add Winner #3 with a choice
of *one* book from the list.
Woohoo! We reached 600 followers!
Winner #3 will get a choice of *one* book from the list.
If I reach 700 followers during the contest, I'll add Winner #4 with a choice of *one* book from the list, and so on for each 100-follower milestone thereafter.
Books will be purchased by me from The Book Depository and shipped to the winners.
Increase Your Chances:
Complete the following tasks to increase your chances to win!
+1 – Become a fan of The Nerd's Wife on Facebook.
+1 – Follow The Nerd's Wife on Twitter.
+2 – Tweet about this contest. Sample tweet: Enter to win new YA releases from @thenerdswife for #BlogFest2010. Enter here: http://bit.ly/d7CvG7
+5 – Subscribe to The Nerd's Wife YouTube channel.
Contest ends Sunday, Sept. 12 at 12:00 PM EST.
Ok, now that you've entered my giveaway, head over to Say it Rah-shay to enter hers!
Rachée has a super-fun blog where she talks about books and other things going on in her life. I really love how bright and colorful her site is!
Thanks for looking everyone, and good luck!
br>