Today is my birthday … and I really wanted to celebrate it the right way.
So when TAMPICO® Beverages contacted me earlier this month and asked me to throw a party in honor of their all-new 20 oz. single-serving beverages, I jumped at the chance.
I mean, how else would I want to celebrate my birthday?
So, I gathered my family together and we threw one heck of a shin-dig.
No party would be complete without snazzy TAMPICO® sunglasses and cupcakes.
And fun squiggly straws for guests to use to enjoy their refreshing TAMPICO® beverages.
Cupcakes! YUM!
The line-up of flavors. We had Citrus Punch and Fruit Punch. I really loved the Fruit Punch flavor. So yummy!
The Nerd especially enjoyed the Citrus Punch flavor.
River and Pappy had a great time with their sunglasses.
So did Andy and Baby Eli. Isn't Eli a doll?
Doesn't he look like one of the Blues Brothers? I am cracking up just looking at it!
River and her mommy even shared a bottle of TAMPICO®. River really loved it.
Soon, it was time for me to blow out my candle! Yes, candle as in, a singular candle. If we put a candle on the cupcake for every year, that cupcake would melt!
Of course, the BEST part of the party was taking the photos from it and entering them in the TAMPICO® Unique Like You contest.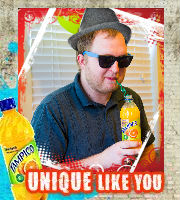 Here's The Nerd all tricked out. Now he's definitely a Blues Brother.
Visit TAMPICO® on Facebook to enter the contest yourself. You don't even have to be drinking a TAMPICO® beverage in your photo!
All in all, it was a great birthday. Thanks, Tampico!
Disclaimer: TAMPICO® product samples were provided to me free of charge, courtesy of Tampico Beverages, Inc. The opinions stated in this post are my own.
br>