Welcome to Nerdy Things Thursday, where I try to shed a little light on some of the Nerdy Things I come across in my life with The Nerd.
Earlier this week, I shared some photos from our
weekend trip
to Houston to celebrate a new set release for
Magic: The Gathering
. So I thought I'd explain a little about this super-awesome trading card game.
The basic premise of MTG is that you are a planeswalker, or magician, who is dueling another planeswalker. You cast spells and summon creatures or artifacts to assist you in the duel and defend you.
Each player uses a 60-card deck of spells, creatures, artifacts and mana cards. Mana is the "fuel" for your spells — a force that you draw from different forms of land. There are five colors of mana, and each color has a general strategy or "feel" of a spell associated with it: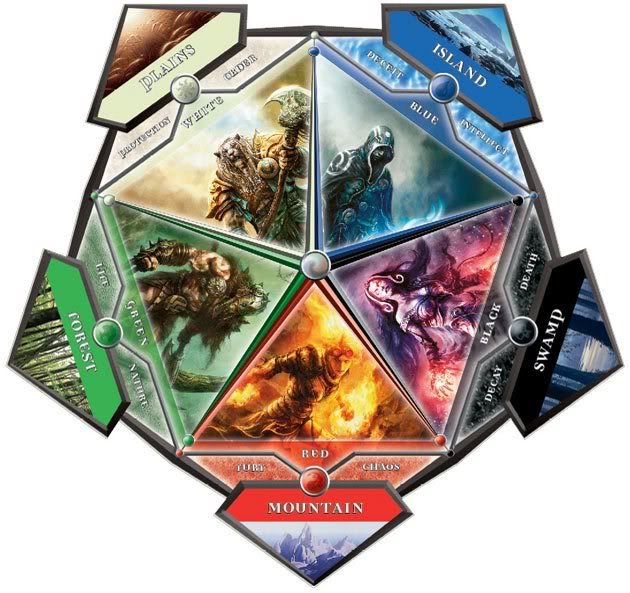 I like to play blue, white and (occasionally) black. The Nerd is more partial black and red.
So, you need mana to cast a spell. Each card has a certain mana cost. You are allowed to play one land card (which produces one mana) each turn, unless you have a spell that allows you to cast more than one land card.
Now, let's take a look at a card: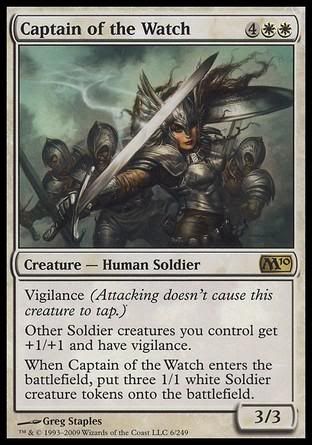 This is a white card. If you look at the top left corner, you'll see the casting cost. It's 2 white mana, and 4 mana of any color.
The card type is a "Creature — Human Soldier." So, this card can attack your opponent, or defend against an attack from your opponent's creatures.
In the bottom right, is the Power/Toughness of this creature. It's a 3/3, so it had 3 hit points, and can absorb 3 hit points.
You need the right combination of creatures, spells, artifacts and land (mana) in your deck to win. It's all about strategy. And making super-cool combos.
The cards are released in
sets
. A block consists of three sets of cards, all with a similar theme. Currently, the Shards of Alara block and Zendikar block are the standard sets. So, you can use cards from these sets when playing in a Standard tournament.
Of course, there are really cool cards from all sets, and I really like to collect the cool cards.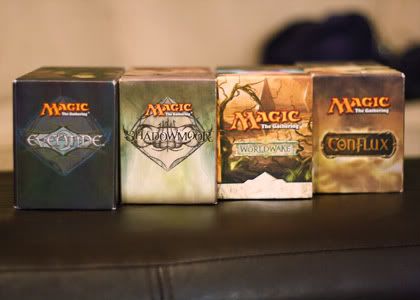 If you know me, you know that I am a (semi)organized person. I love Post-It notes and labels and file folders. Yep, it's possible to love those things. But I digress. I like to keep my Magic cards in pretty boxes — one for each deck.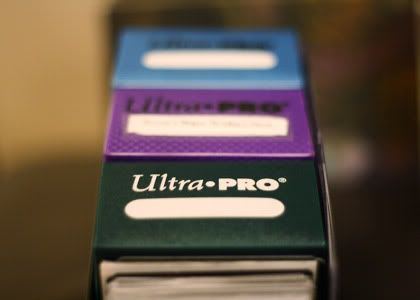 Ah, blue, green and purple. My favs.
And I thought I'd give you a look at some of my favorite cards: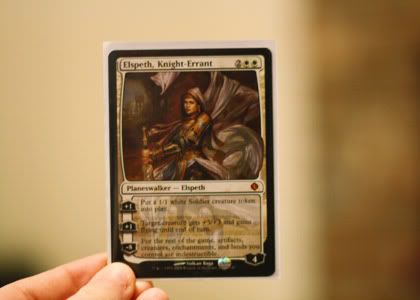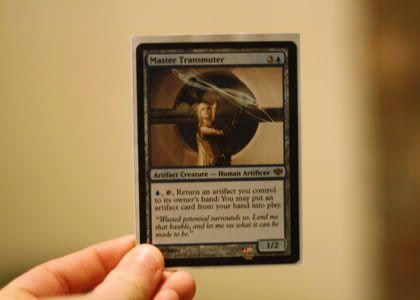 Master Transmuter
lets me play any artifact for a low cost. I love this card in my Esper Artifact deck.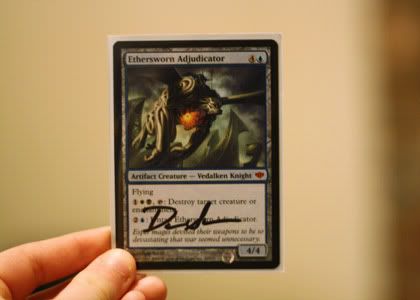 Hopefully, we can eventually delve into some of the strategy in this game, and talk about some of the popular types of decks that people create. Not that I'm an expert. I lose a lot.
Hope everyone has a safe, warm day! We're expecting snow in Dallas, so this should be interesting…
Until next time, live long and prosper!