Since my son, Andrew, first switched to milk from formula, we've been drinking Silk Soy Milk by the gallon. The Nerd and I are both lactose intolerant, so it should have come as no surprise that our son would be, too.
I just love the smooth, creamy taste of Silk Soy Milk, but I don't really drink very much milk. So when I was asked to try the new Silk Iced Latté, I thought it would be a great fit for me.
Silk Soy Latté has a rich, bold flavor that makes you want to jumpstart your day. It energized me, but at the same time, it was cool and refreshing.
It reminded me of enjoying an ice, cold popsicle on a hot summer day. The heat in Texas can be overbearing, so popsicles can offer crisp refreshment to energize you.
I decided to see what Silk Iced Latté would taste like in popsicle form, and let me tell you — I wasn't disappointed! I will be enjoying these delicious frozen treats all summer long!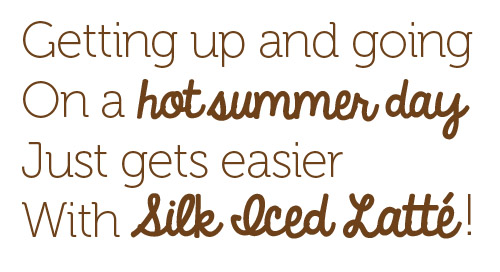 Iced Latté Popsicles
Ingredients:
1/2 c Silk Iced Latté (in the flavor of your choice!)
1 c ice
Small paper Dixie cups
Colorful straws
Directions:
In a blender, blend together Silk Iced Latté and ice until large chunks of ice are gone.
Pour into Dixie cups. Cut straws to desired length (should stick up just out of the cups) and insert into the middle of the Silk Iced Latté mixture.
Freeze overnight.
When ready to serve, cut a notch into the top of the Dixie cup and tear it off.

Enjoy!
This is a sponsored conversation written by me on behalf of Silk. The opinions and text are all mine.
br>