Welcome to another Nerdy Things Thursday here on The Nerd's Wife. Last week, I asked for suggestions from my Facebook friends for topics to cover in this little column 'o mine. Boy did we get some good ones!
This week, we're going to talk about something that my friend Sommer suggested: Video Games. Now, I'm going to break this up into a two-part series. Because here in our household, video games are what it's all about.
So, this week we're going to talk about First-Person Shooter videogames. Next week, we'll cover RPGs (no, not rocket-propelled grenades, but Role Playing Games).
I'm only going to talk about those two categories for now, because those are what The Nerd likes to play. And this blog is about him (us!).
First-Person Shooter games utilize a unique perspective for the player — YOU hold the gun, YOU control the turns. The screen looks just like if you were standing in the warehouse, shooting bad guys yourself.
Usually, you can see the character's hands, holding a gun or other weapon. This allows you to position the weapon for your character and to change weapons according to the situation.
First-Person Shooters are usually war games, but they don't have to be. One game that The Nerd *loved* was BioShock — a game set in an alternate timeline of 1960. You play a plane crash survivor who has to explore an underwater city.
You inject yourself with different steroid-like substances that give you powers — like the ability to shoot lightening from your hands! And yes, you see the needle actually injected into the arm. It's really gross and disturbing.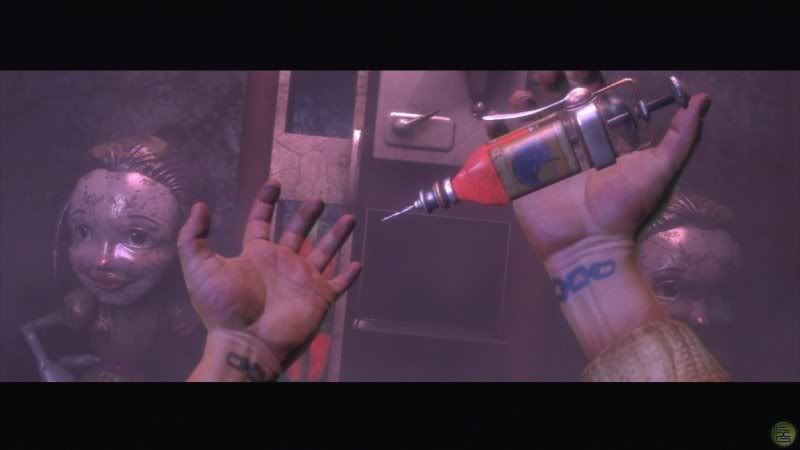 There are two reason Nerds like to play video games. The first is to get a sense of personal achievement by overcoming obstacles and beating objectives in the games. The second is to immerse themselves in the world that is created by the video game.
First-Person Shooters are all about the first reason. That's the appeal. These games have, for the most part, an over-arching storyline and objective for the player to accomplish.
But it's more than that — you can collect feathers, go on small missions, rescue civilians and increase your standing in XBox Live. Each of these tasks gives the Nerd a little sense of accomplishment.
He feels like the 60 hours he's invested in this game was totally worth it because he found each and every one of those feathers. I feel like throwing up thinking that he invested 60 hours of his life looking for feathers. But that's neither here nor there.
And it doesn't hurt that you usually get to blow stuff up and shoot people in the head.
Here are some popular First-Person Shooter titles:
Check back next week to learn all about Role Playing Games!
Is there anything you'd like to see covered in Nerdy Things Thursday? Leave a comment! I'd love to hear your suggestions!
Until next time, live long and prosper!