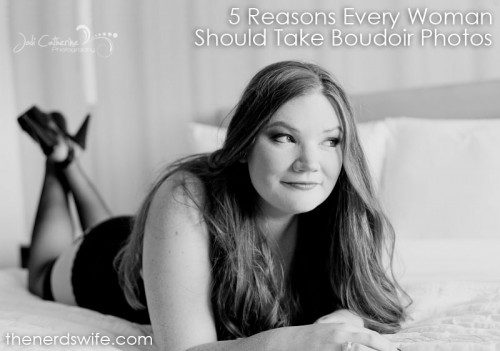 A few weeks ago, I did something I never thought I would have enough courage to do: I had some boudoir photos taken. The idea of getting half-naked in a hotel room with a stranger isn't something that was ever on my bucket list. But after doing a bit of research (and convincing myself that it really would be ok), I forced myself to give it a try.
And what started as a birthday present for my husband — something silly and artificial — turned into a day of self-discovery and empowerment for me.
I've always had major body issues. I don't consider myself very stylish, and there was a time in my life when I was very overweight. Add a rough pregnancy and even harder delivery, and this body needs some serious work. My stretch marks have stretch marks. I avoid mirrors at all costs. When I do occasionally catch a side-eye glimpse of myself in one, I'm often surprised at the stranger there. Is that really me? I could go on for hours about the faults in my body, but the point — like I said before — is that I have major body issues.
When talking to a few of my girlfriends about my decision to try boudoir photography, they called me brave and commented how they'd want to work off a few pounds before taking these kinds of photos. I know from talking to my photographer that's how many women feel.
I made myself feel better about the whole process with this mantra: This is me, stretch marks and all. This is the woman my husband goes to bed with every night; this is the woman that he loves.
And on my day of boudoir, those platitudes became a truth I couldn't avoid.
Our society has warped the concept of beauty to something unrecognizable. When you have celebrities that do this to their faces in the name of beauty, something is really wrong. As mothers, what thoughts about beauty are we passing on to our children? I want my son to accept who he is — to LOVE who he is — but how can I set the example if I don't love myself?
Posting these photos online for the whole world to see was something that really scared me. What if someone notices the stretch marks on my thighs? What will my mother think? I know there will be those who look down on me for sharing these images of myself. But for me, this isn't about sex. It's about acceptance. And confidence. And freedom.
My photos were taken by Jodi Catherine Photography, and I could not have been more pleased. She offered me a discounted session in exchange for a post about my experience. By the time I left that hotel room, Jodi felt more like a friend than a stranger. I guess there's a certain bond that forms when you help someone fasten their thigh highs into a garter belt.
So, here are some reasons I think every woman should have this experience. Don't wait until you're thin, or skinny, or whatever. Your body is beautiful, just the way it is.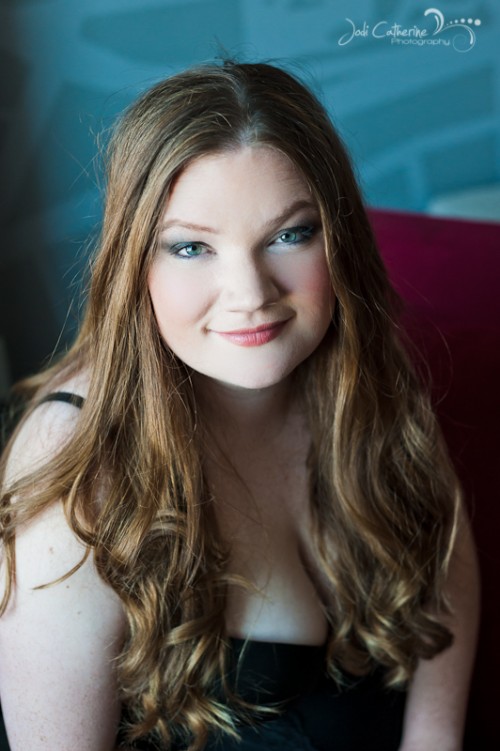 1. You get to get all dolled up.
My hair and makeup were done by Martha Davenport of Mama Owl Blog. She did an amazing job, and when I look at these photos, it doesn't seem like I'm looking at myself. It's like some sex kitten alter ego popped into my skin. I felt sexy. I'm sure the corset, and the garter belt, and the spiky heels had absolutely nothing to do with that…wink…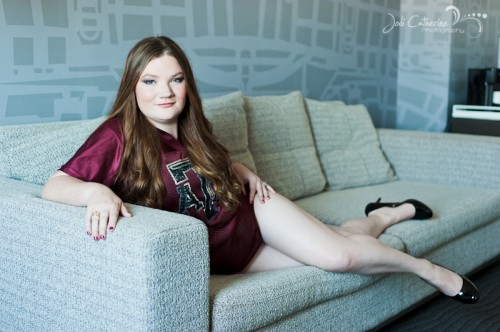 2. You find assets you never knew you had.
Before these photos, if someone had asked me what my "best feature" was, I'd have probably said my eyes. Or my hair. Definitely *not* my legs. But wowza, do my legs look GOOD! They look long, and lean, and muscular. I almost accused Jodi of photoshopping someone else's legs on me when I saw these photos. "Girl, it's all you," she told me. And y'all, it IS ALL ME.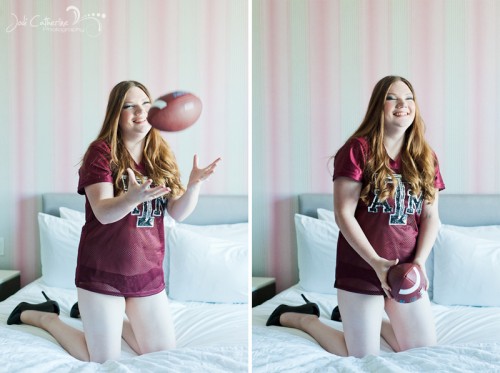 3. Boudoir sessions are fun.
Where else would a jersey and a football be considered sexy? Hmm? Once you get past the first bit of awkwardness, the photo session just becomes fun. There's just something about sharing your latest TV show addictions — hello, Orange is the New Black — while being instructed to contort your body in the most uncomfortable positions imaginable. You just gotta laugh. And when your garter belt pops open mid-shutter press and smacks you right in the thigh, you just gotta laugh harder.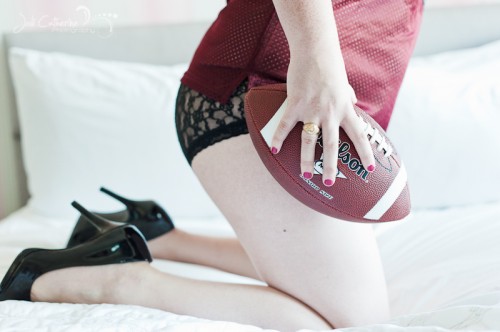 4. You get to be creative with your outfits.
Jodi offered to take photos of two outfits. I decided to go with a simple black corset, garter belt and heels for one, an Aggie jersey over lace for the other. I knew The Nerd would enjoy the football-themed ones, and adding that touch of personality to the photos made them extra special.
Little things matter — maroon nail polish to match the jersey. Black lace panties to go with the shoes. If you enjoy styling outfits, a boudoir session takes it to a whole new level. Don't want to deal with putting together elaborate outfits? Simple black lingerie and some heels are always classic and sexy.
5. You get to be you.
For the first time in my life, I wasn't worried if my face was angled to minimize my double-chin (luckily it was). I didn't remember to suck in my belly so that my muffin top wasn't visible (thankfully it wasn't). I literally just laid there and let Jodi work her magic. I don't even remember what I was thinking about. I felt confident and amazing and I could not wait to show my husband the finished images.
Let's just say he liked them.
Ready to book your own boudoir session? I highly recommend Jodi Catherine Photography. She did such an amazing job and I couldn't be happier. At the end of the session, she gave me a little gift bag with some delicious cake balls from The Cakeball Boutique and a gift card to try out The Girls Room pole dancing classes. I'm still working up the courage to use that gift card!
Plus, she's offering a $100 credit towards prints and products if you book a boudoir session with her. Just mention my blog and she'll give you the credit.
Have you ever tried boudoir photography?
What's one thing you want to accept about your body?
Disclaimer: I received a discounted rate on my photography session to facilitate this review. All opinions are my own. 
br>